For the first time, two international organizations, WorldKings and WRA, have jointly recognized Vietnamese cuisine are holding these five records.
Vietnamese cuisine is known for its wide range of food types and diverse processing methods, from simple street food to refined delicacies that leave a lasting impression on visitors from around the world. Many foreign articles, publications and international star chefs have written and spoken about the country's cuisine with a lot of praises.
Gordon Ramsay, a world-famous chef when visiting Vietnam, once said: "Thank God I wasn't born in Vietnam. I'm just a bad cook here." Why did he say that? It seems Vietnamese cuisine truly fascinated him.
The 5 records recently recognized by these two world record organizations have partly shown the Vietnamese cuisine's diversity and uniqueness that have enchanted many international foodies. Let's have a look at these records.
The country that has the most noodle and broth dishes in the world (164 dishes)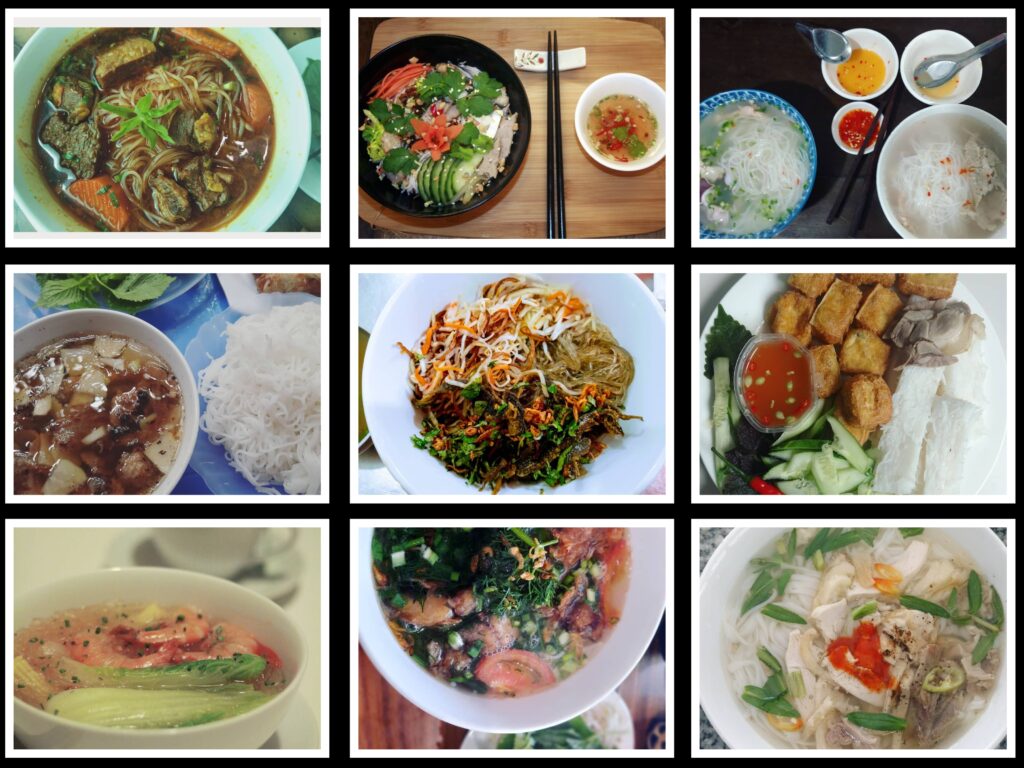 If you live in Vietnam, you've probably tried a variety of noodle dishes (phở, bún, miến, mì, hủ tíu, and so on). There are a few to several dozen more versions for each kind. Indeed, noodle dishes abound in Vietnamese cuisine, particularly those with broth. To foreigners, the majority of them appear to be simple to eat and delicious. Vietnamese noodle recipes are typically produced with rice flour, tapioca flour, and wheat flour, resulting in unique and various variants while maintaining a pleasing taste. In Vietnam, you can try a variety of different noodle dishes at all street corners. Variations with different ingredients and flavors distinguish each locale.
2. The country that has the most kinds of Mắm (salted fish) and dishes made from Mắm with typical favors (over 100 dishes)
The presence of a mắm bowl in the center of the food table can be seen at all meals in Vietnam. There are many different types of mắm in Vietnamese cuisine. The majority of them are used as dipping sauces or seasoned directly in foods to enhance the flavor and partly define each dish's taste, for many times bring the distinct flavor of each region. Mắm is not only a common dipping sauce in daily Vietnamese meals, but it also enhances the flavor of a variety of other dishes.
3. The country that has the most dishes made from flowers. 
According to WorldKings, Vietnamese cuisine has over 272 dishes made from 43 different flowers. This number is still being updated.
In addition to be a symbol of beauty,  flowers enter the Vietnamese kitchen, creating many delicate and nutritious dishes. As a result, Vietnamese food, which was already diverse and distinctive, has grown even more so.
Flowers are used in a variety of forms in the country's cuisine, from rustic to refined and exquisite. Depending on the geographical peculiarities and customs of each region, there will be dishes cooked from various flowers in various combinations.
4. The country that owns the most kinds of special rolls in the world ( 103+ dishes).
Green veggies abound in Vietnamese rolls, which have little or no fat. To maintain the original taste and high nutritious value, the ingredients used in the rolls are frequently prepared in basic ways, such as steaming or boiling. Therefore, you won't get bored even if you eat a lot. Vietnamese rolls are known for their abundance of vegetables and fresh flavor, which is often accompanied by a sweet and sour dipping sauce. Very few countries in the world have such a diverse and vast roll collection as Vietnam.
5. The country that owns the world's most dishes made from rice flour (143+ dishes).
It is difficult to count all the cakes and flour-based dishes in Vietnamese cuisine.  It is not difficult to see colorful and eye-catching cakes presented on Vietnamese food trays during festive seasons or Tet holidays. Due to the country's long history of wet-rice agriculture, r ice and grains have a major and dominant role in the Vietnamese cuisine. Whether it's glutinous rice or plain rice, it can be used to make a variety of cakes and dishes with delicious and distinctive flavors. Many types of cakes have a rich history of being associated with the daily lives of people in different regions of the country. It is not exaggerating to say rice is the "soul" of Vietnamese cuisine. Every Vietnamese is nourished by rice. As a result, Vietnamese people hold rice in high regard.
Gordon Ramsay used to say about Vietnamese rice-based dishes "In the UK we also have dishes made from rice, but here, the Vietnamese have taken rice to a new level."
Mr. Le Tran Truong An, general director of VietKings, stated that Vietnamese food was not only nutrient-dense, but also featured a wide range of sour, spicy, salty, sweet, and bitter flavors, making them suited for a wide range of consumers' tastes and culinary preferences, including those of international tourists.
Furthermore, thanks to their ingenuity and creativity in processing and combining ingredients, Vietnamese people have created many tasty and distinctive meals from rich, natural ingredients that are close to their daily lives.
In order to continue to promote Vietnamese cuisine as well as the images of the country and Vietnamese people to international friends, VietKings and VietWorld, the domestic and global Vietnamese record organizations, have completed six sets of nominations for the new world record for Vietnamese cuisine.
The nominations include: the country with the largest number of diverse and delicious street foods, the country with the biggest collection of souvenirs and gifts, the country with the most delicious home-cooked dishes, the country with the largest number of "xôi" (sticky rice) and "chè" dishes (Vietnamese sweet soup), the country with the most natural spices, and the biggest producer and exporter of Robusta coffee with the most unique culture of coffee making and drinking in the world.
That Vietnamese cuisine has achieved these five culinary world records is not only Vietnamese people's source of pride but also an opportunity to help promote Vietnamese cuisine all around world.
Latest posts by techbiz.network
(see all)