Sapa is a well-known tourist destination in the north of Vietnam, attracting a large number of Vietnamese and international visitors each year. Sapa has won the hearts of most tourists for its breathtaking natural beauty, quiet and poetic village scenery, and unique local culture. In recent years, many high-quality hotels and resorts have been built in Sapa to respond to the increasing demands from tourists. In this article, let's have a look at some of the most spectacular resorts and hotels in Sapa which we're sure you'll fall in love with when you have an opportunity to stay here.
Topas Ecolodge
It takes only about 1 hour by car from the center of Sapa (18km) for you to reach Topas Ecolodge where you can immerse yourself in the majestic nature surrounded by valleys of Hoang Lien National Park.
Because of its unique geographic location, the resort has a mysterious yet fascinating appearance. Although Topas Ecoledge is located a little outside of Sapa's city center, transportation between the resort and the town center is quite convenient, thanks to a free daily shuttle bus service from the resort to the town center. Cycling tours are also available for you to explore your favorite places along the way and immerse yourself in the tranquil and romantic beauty of the area.
Another highlight of Topas Ecoledge is that the resort's interior is entirely built of wood, rattan, bamboo, and cork, making the place more rustic, cozy, and comfortable.
Topas Ecolodge has a system of 25 bungalows inspired by the local ethnic people's traditional stilt house style. These white granite bungalows are all rustically designed, roofed with palm leaves, are rather large in size, and have private balconies. From afar, the modest cottages on the top of a misty hill look very much like the Hobbit people's fairy-tale village in the Lord of the Rings film series.
Here is where you may make reservations at Topas Ecolodge.
2. Pao's Sapa Leisure Hotel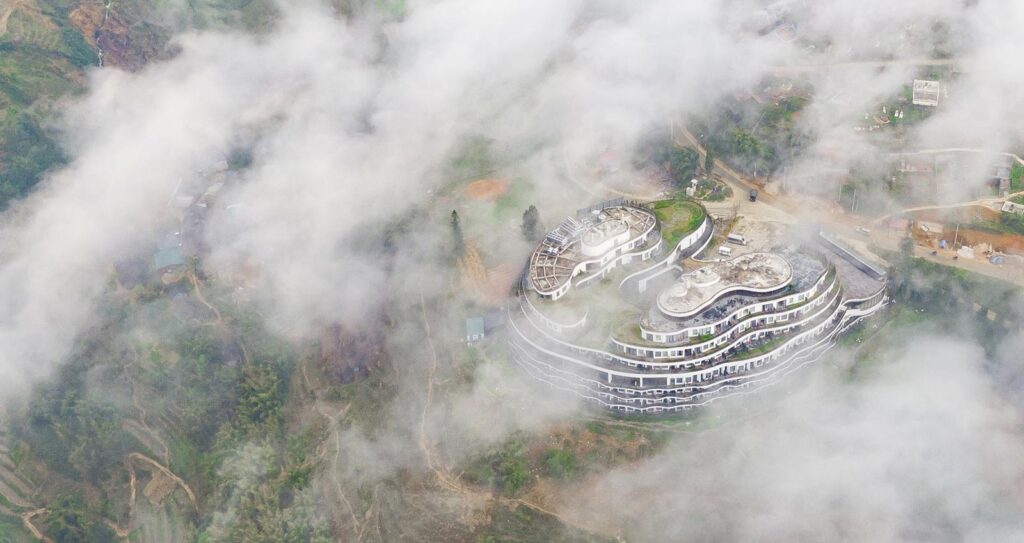 The second location we'd like to show you to is Pao's Sapa, a resort located around 4 km east of Sapa town center and nearly 1 km east of Fansipan Legend Cable Car Station. 
The second location we'd like to show you to is Pao's Sapa, a resort located around 4 km east of Sapa town center and nearly 1 km east of Fansipan Legend Cable Car Station. Lying right along the mountainside Pao's Sapa Leisure Hotel embraces the curves of terraced farms which makes it have a poetic beauty. The resort  is also surrounded by the beautiful Muong Hoa valley and the magnificent Hoang Lien Son mountains. This contributes to the resort's fresh, pleasant, comfortable, and tranquil environment.
Pao's Sapa Leisure Hotel has 223 rooms of different standards.   All of them have a minimalist but luxurious interior design that offers a comfortable and modern space that blends nicely with the beautiful natural surroundings.
Book a room at Pao's Sapa here.
3. Eden Boutique Hotel & Spa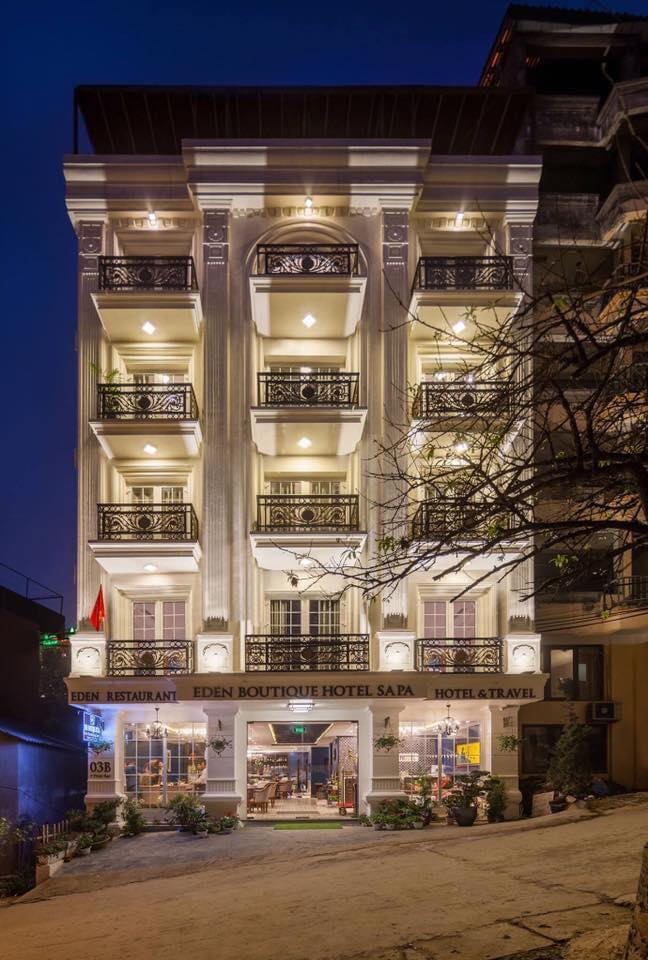 Eden Boutique Hotel & Spa is a well-known 4-star hotel in Sapa, thanks to its dedicated service and modern and sophisticated design. It is located 2.2 km from Fansipan Legend Cable Car Station and 13 km from Fansipan mountain.
The hotel has a bar, restaurant, shared kitchen and free WiFi throughout the property. This resort also offers a currency exchange service for guests, which is a perk that many international visitors appreciate.
Guests can rent a bike or a car from the hotel to explore Sapa in the city center or the surrounding areas.
You can reserve a room at Eden Boutique by clicking here.
4. Sapa Eco-Home–Mountain Retreat 

Sapa Eco-Home- Mountain Retreat is another resort located in the heart of nature that we would like to introduce to you. s its name suggests, the resort is nestled between mountains in Sapa, 6 kilometers from Fansipan Legend Cable Car Station and 17 kilometers from Fansipan Mountain. The main Square and Sapa's Notre Dame Cathedral are around a 15-minute drive from the hotel. This resort is also quite close to Sapa lake (4.3km) and Sapa museum (3.8km).
Even though it is merely a two-star resort, Sapa Eco-Home – Mountain Retreat provides a sauna and a picnic area with BBQ grills for tourists staying at the hotel.
Tourists can go hiking in the neighborhood or rent a car from the hotel to explore Sapa.
Here you can reserve hotel rooms at Sapa Eco-home with exceptional discounts.
5. KK Sapa Hotel
The KK Sapa Hotel is a 5-star hotel in Sapa's core, located at a great geographic position with direct views of the mountains and the romantic Muong Hoa valley. Fansipan Legend Cable Car station is only 3.8 kilometers far from here.
The highlight of KK Sapa is the classic interior design combined with new design trends, giving the resort both a classic appearance and the elegance of European aristocratic architecture. Despite its central location, the KK Sapa rooms enjoy views of the lovely natural surroundings. The hotel also has an indoor pool with a modern water filtration system, a gym, and a high-end restaurant system that includes two large restaurants on two different floors.
The KK Sapa complex can be described as a fantastic place to relax with a wide range of services and amenities, allowing tourists to enjoy convenience and comfort while remaining close to Sapa's beautiful natural surroundings.
Here's where you can book a room at KK Sapa.
Latest posts by techbiz.network
(see all)