Norway is a multi-religious country in the Scandinavian peninsula with a population of over 5 million people and a land area of 385,207 square kilometers. In the past, the Catholic church played an important role in Norwegian society and politics and Christianity used to the dominant religion in the country.
Despite the fact that Norway has been secular since 2012 and Norwegians are not especially religious, Christmas – or Jul in Norwegian – is a major national holiday in the country, as it is in most other European countries. This is one of the few occasions when Norwegian traditions are clearly displayed, especially during Christmas feasts.
1. Norwegian Christmas Food
Norwegian cuisine isn't very well-known. Traditional Norwegian food is rarely seen in daily meals or in restaurants in Norway. When being interviewed, m any young Norwegians today believe their cuisine is boring since they are used to everyday dishes that are cultural products imported from popular cuisines around the world such as Italy, France, the United States. However, Christmas is a rare time when traditional Norwegian food and drinks are proudly displayed on every family's table and in restaurants, as if there had never been any invasions of foreign cuisines. This is your chance to enjoy traditional dishes such as Risengrynsgrøtt, a creamy rice porridge usually served with jam and butter on the Christmas Day's morning, Ribbe, grilled pork ribs with crispy skin, and Pinnekjøtt, stewed salted lamb chops. All of these dishes are essential for Norwegian Christmas celebrations.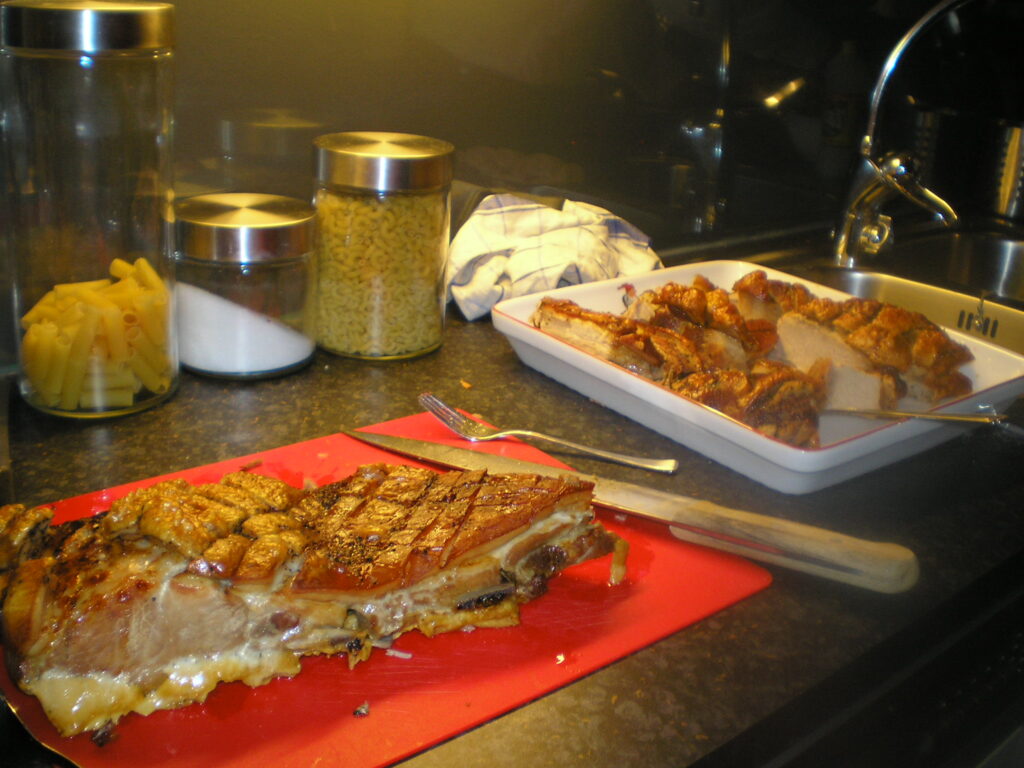 Surrounded on the three sides by the ocean, Norway is known for a variety of seafood delights. Therefore , you'll see a lot of traditional fish dishes on Norwegian Christmas menus. Lutefisk is a good example. It's lye-pickled air-dried fish that's frequently served with bacon, mashed potatoes, and lefse (potato flatbread). Rakfisk, a fermented fish with a distinctive smell, is also a typical dish served at Christmas dinners. Rakfisk is traditionally served with mashed potatoes, sauerkraut, bread or lefse, and Aquavit or beer.
Aquavit is a spirit that every Norwegian adult must have tried at least once during the Christmas season. This is a liquor made from grains and potatoes and flavored with herbs. Aquavit usually has a high alcohol content (over 37.5 % alcohol by volume).[2].
In addition to Aquavit, many people's favorite traditional drink on Christmas is gløgg – a warm drink that may or may not contain alcohol but must have a variety of spices such as anise, cinnamon, orange peel, cloves, ginger. On the Christmas day's morning, if the asleep you are awakened by the sweet aroma of a cup of hot Gløgg and a bowl of creamy cinnamon-scented Risengrynsgrøtt, that scent will linger in your mind with excitement until next Christmas.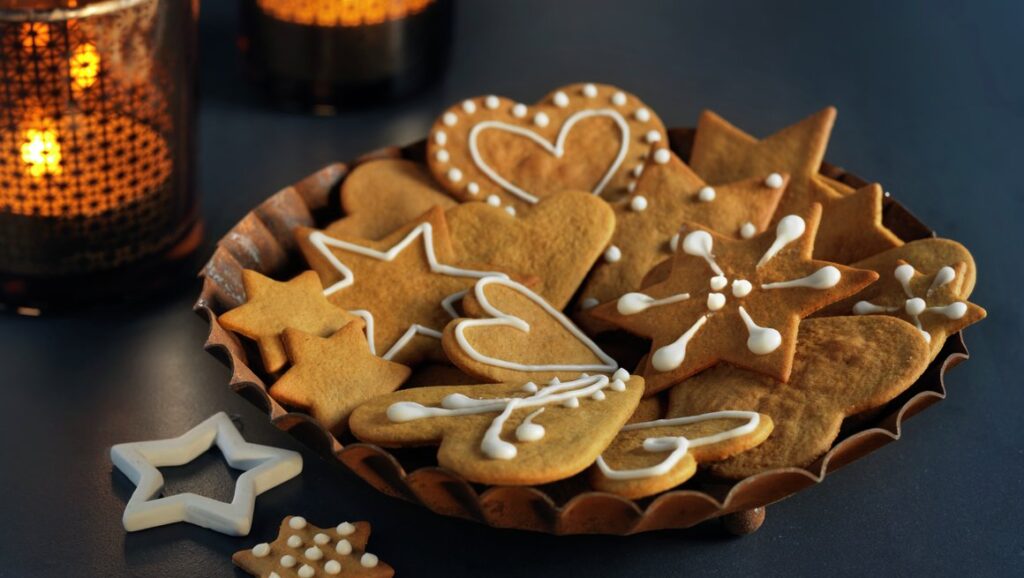 In many European countries, including Norway, gingerbread is a traditional Christmas treat. However, its Norwegian name, pepperkaker meaning pepper house, is pretty intriguing because the Norwegian version of this cookie has little or no pepper. It's still unclear why this cookie is called so, but might it be because it has a hot, peppery flavor? If you have children, a pepperkakehus (gingerbread house) will be an essential decoration during the Christmas season. Pepperkakehus, like Christmas gingerbread house models in many other countries, is assembled from many pepperkake pieces. It serves both as a decorative item and for children to "break" and eat for enjoyment.
2. Christmas celebrations
Before Christmas, especially at the beginning of Advent, you will start to see how Norwegians celebrate Christmas in their homes, stores, streets, offices, and other places. Although few people in Norway today still follow traditional worship services to welcome Christmas, during Advent, many other customs are still maintained.
Activities to welcome Christmas
Every year, starting in November, Christmas preparations begins to stir in the malls, stores, and main streets, turning the country into a true wonderland with full of festive colors. Since the end of November, people begin to decorate Christmas trees and place decorative lights of various colors and forms in most main streets. Christmas concerts in public spaces are likewise very popular.
Immersed in the festive atmosphere, Julemarkeder (Christmas markets) are set up in all cities, for people to shop for Christmas decorations, traditional Christmas foods, and products from different regions across the country.
Norwegians, like those in many other countries, decorate their homes with Christmas trees hung with a variety of colored lights, ribbons, Christmas cards, and many other items. In addition, you also see on the main door of each house, a n Evergreen Christmas wreath which usually has both green and Christmas red colors. On this occasion, it is also not difficult to see images of white angels, red or white hearts, sculptures or dolls of nisse, grome, glittering tinsels, and colorful lights placed everywhere in and outside each house, which make their territory sparkle with festive colors and lights.
Julebord
Getting together for a Christmas celebration and the end of the year is an essential tradition in Norwegian associations, groups, and companies. This custom is called Julebord.
Julebord literally translates as "Christmas table." That is why, on every Julebord occasion, everyone is eager to dress up in elegant and beautiful outfits to gather around the banquet table filled with traditional Christmas dishes and drinks, to exchange small to large talks. From the beginning of December every year, Norwegians start talking about Julebord and look forward to the opportunity to get together at the event.
Julenissen
A bit different from the popular image of Santa Claus around the world, Julenissen is the character who replaces Santa Claus in the Norwegian culture. Nisse or gnome are common creatures in the Scandinavian folklore who live in barns or houses, protecting the countryside and the people who live there. It's difficult to tell the difference between nisse and gnome, yet some people believe gnomes are more evil. These figures are symbols of ancient Norwegian culture, usually seen with long white beards and multicolored conical hats. When Santa Claus was introduced to Norway, the Norwegians named him "Julenisse", which is a combination between a typical nisse and Santa Claus: still with a long white beard but with a typical red conical hat. Julenissen, on the other hand, can wear a blue suit, a gray fur coat, or a red shirt, moss green slacks, instead of being covered all in red like Santa Claus around the world. During the Christmas season, images of Julenissen appear everywhere, not only in the form of statues in front of stores, offices, in gift shops, on Christmas trees, but also printed on gift wrapping paper, and Christmas greeting cards.
Lille Julaften
The night of December 23 is called Lille Julaften (Little Christmas Eve). At this time, all family members will gather to finish up the last preparations for Christmas, such as wrapping presents, baking pepperkaker and cakes, and preparing traditional dishes. Another common tradition is to eat Risengrynsgrøtt, which has only one almond hidden in one portion. A marzipan pig will be given to the lucky person who finds this almond in his bowl. Many Norwegian families, however, prefer to conduct this tradition on the Christmas Day morning rather than on Lille Julaften.
On Lille Juleaften, many Norwegians have the routine to watch the short film Grevinnen og Hovmesteren, a Christmas program that has been broadcast on the national television channel, NRK, every year since 1980.
Julaften
Christmas Eve – Juleaften – is without a doubt the most important part of the celebration. Unlike Vietnamese people, who like to celebrate Christmas by going out on the street, Norwegians prefer to spend the holiday with their families and loved ones. When the church bells ring out for Christmas at 5 p.m., Norwegians are also ready to gather around the dining table for a Christmas dinner with traditional dishes that they have waited the whole year to enjoy. They then gather around the Christmas tree to talk, sing, play board games, and, of course, open Christmas presents, which is the most awaited activity. Many families even hire or appoint a person to play Julenissen, the Norwegian Santa Claus, to deliver gifts to their children each Christmas season in order to keep their little angels' seasonal joy.
Romjulen
The period between Christmas Eve and New Year's Eve is called Romjulen. During Romjulen, Norwegians frequently visit relatives and close friends, talking and sharing cozy meals. Many people, especially families, who spend their holidays in hytter (mountain cabins), take advantage of the opportunity to go skiing in the mountains with their family and friends. Shops are closed from December 25 to 27, so when they reopen on the 27th, many people stock up on supplies for New Year's Eve or exchange unwanted gifts.
In addition, during this period, many people wear masks and disguise themselves as Julebukker- Christmas goats, knocking on each neighbor's house to ask them to identify who is wearing the disguise. In another version, Julebukkers sing carols in exchange for candies. The tradition is no longer popular, but Christmas goats (typically plaited with straws) have become popular ornaments in many shops and on Christmas trees in many houses, particularly in rural Norway.
With this article, TechBiz's team hopes to have helped you understand more about Christmas customs in Norway- a Nordic country rich in traditions. Feel free to contact us anytime if you want to collaborate with TechBiz or share information about your fascinating cultures.
---
[1] https://www.dagsavisen.no/kultur/2012/05/21/norge-omsider-et-sekulaert-land/
[2] https://www.lifeinnorway.net/aquavit/